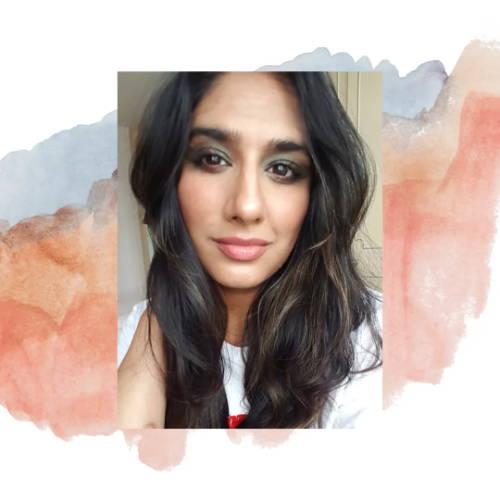 Neelam is a working mum of 2 young boys and living in London, she didn't feel the need to really look after herself or was even aware of skincare until her early 30s. She has always had decent skin but loved to tan in the sunshine! She is a glasses wearer so was used to having lines around her eyes and was really aware of what she could do to look after her skin. When she turned 32, she experienced significant hair loss triggered by stress, a huge wake up call for her to stop taking her body for granted! She believes that diet and mental state play a huge part of self care and in her journey to deal with he hair loss, she also discovered more about skincare and started small. She was inspired to start her instagram account, @Skinoverbeauty because she wanted to share her learning and help people feel good about themselves. Now in her mid 30s, she has matured and whilst she still loves playing with makeup, she still believes skincare is important. She first stumbled across Huxley Products in Fenwick, Bond street and was so impressed with the products. She was lucky enough to meet Jin in 2019, and was blown away not only by her beautiful skin, her energy and generosity. Neelam really believes that Tonic15 Jin has made so many incredible Korean products and concepts available to all of us!
Age 30's
Skin Type Combination dry, pigment prone skin!
Skin Concerns I am looking to add tone, definition and lift into my skin, whilst tackling pigmentation and scarring.
Favourite K-Beauty products from TONIC15 Well that pretty obvious isn't it?! My top 3 K beauty finds from TONIC15 were introduced to me in the suitcase collaboration! The Dr. Ceuracles SPF has transformed my spf and skincare game! It feels so nourishing on the skin, layers and reapplies brilliantly and leave no whitecast or grease on the skin. This SPF is a holy grail in the cooler and warmer climates! An yes, I wear SPF everyday all year round.
Lastly.. the Huxley Good Night Sleep Mask! I am yet to find a Huxley Product I don't love but this one is juicy skin in a bottle. If you want to wake up with soothed, plump skin this sleep mask is the one stop shop! It is also my first kbeauty product that I feel head over heels about so it holds a very special place in my heart.
Favourite skincare step A tough one! I believe in a routine. I often get asked what one thing do I need an I honestly cannot say as whatever you take out you must replace. If you cleanse, you must hydrate. If you use a scrub you should just sun protection. My favourite sensory step is a balm cleanse, I love the mental wind down this step gives me, the feeling of leaving the day behind and removing my stresses along side It.