SKINCARE SCHOOL: How to beat mask acne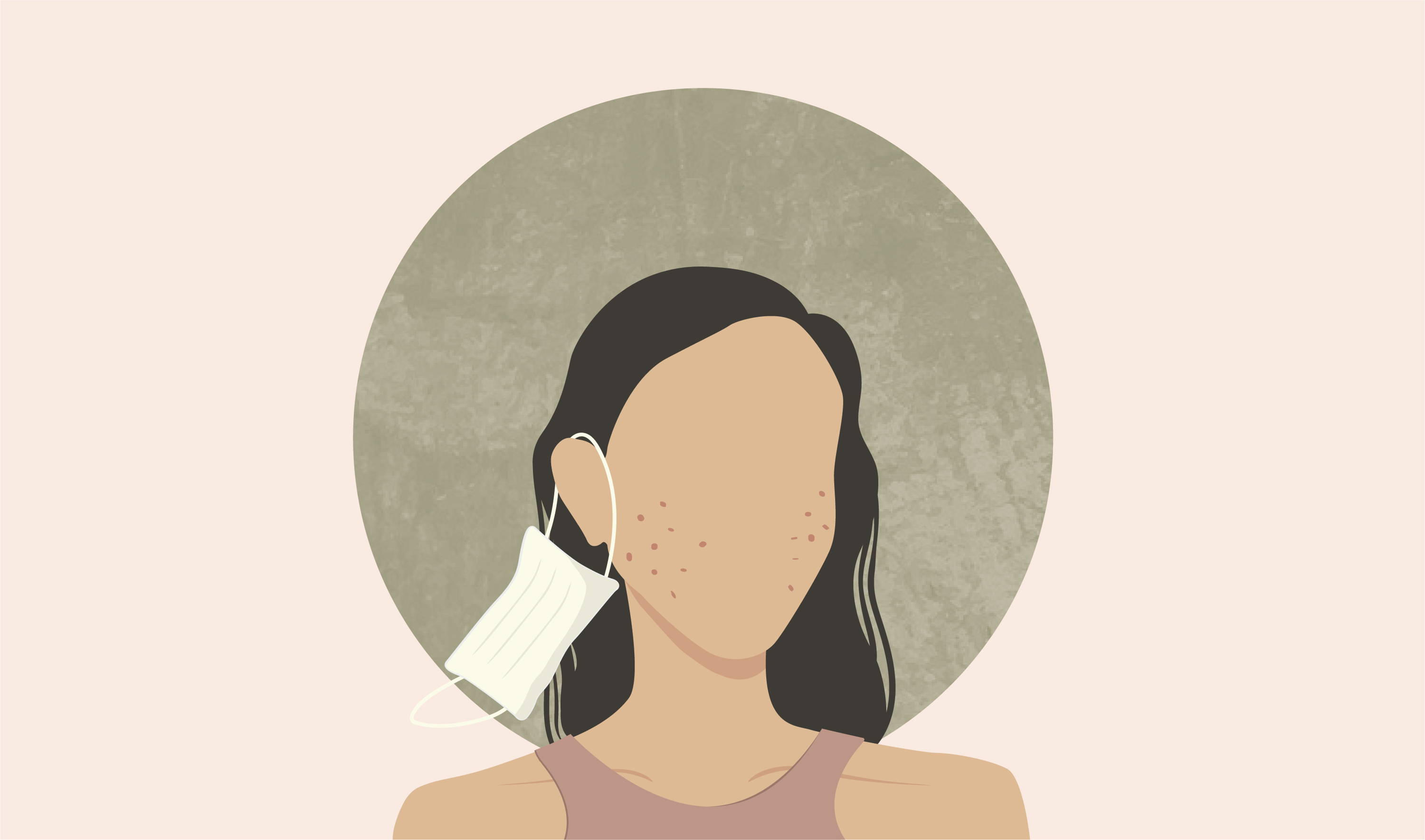 ---
---
#SkincareSchool by Dr Ayah and Natalie Ticehurst

SKINCARE SCHOOL: Is your face mask causing your acne?

Just when we thought we had a handle on our blemishes, in walked face masks…


Have you found yourself wondering if your face mask is giving you acne – or what's the beauty brigade are referring to as maskne? You're quite right to have cause for concern. Living through these uncertain times has taken a serious toll on our complexions.
From increased alcohol intake (we hate to break it to you but those end-of-day margheritas spell not-so-happy-hour for your complexion), soaring stress levels and even a lack of fresh air from too much time spent sofa surfing – living through a pandemic has doled out hit after hit and cause many of us to struggle with the symptoms of isolation skin.
Whether you've always had the kind of clear complexion other people toil for or if your skin type is blemish-prone - but you usually manage to keep acne at bay with a little skincare sorcery – chances are you've noticed a smattering of spots popping up in places they weren't before.
The good news is that these blemishes aren't the result of anything you've 'done wrong' – in fact, if you're anything like us, you've used the extra time to swot up on at-home facials and now have dermatologist-worthy knowledge of what all of those amazing acids and ingredients can do.
Instead, these little pimples and pustules might be cropping up because of your face mask or covering.
This 'new' type of acne – dubbed 'maskne' by the beauty industry and acne mechanica by medics – is the real deal. And nobody wants it.
Read on for our top tips from #SkinSchool specialist Dr Ayah and TONIC15 founder Jin Kwon to find out how to shield without your skin suffering…
■ Is your face mask causing your spots?
With more countries enforcing the use of face masks to help slow the spread of Covid-19, many of us have found ourselves wearing face coverings during supermarket trips, socially distances meet ups and the like.
While we're all for this practice and the increasing levels of safety it offers, our skin is less than impressed. In fact, let's be frank, it's struggling.
'Breathing into a closed space increases humidity, which is ideal for bacterial proliferation,' explains skincare school's Dr Ayah. 'This in combination with friction, excess oils, sweat and dirt means many of you may be suffering with more breakouts or irritation than usual,' she adds.
'Remember what I repeat often – an increase in oil and blocked pores provides a perfect a breeding ground for bacteria.'
'Blocked pores + bacteria = breakouts, inflammatory response, redness, pain and possibly pus,' she adds.
'The longer the inflammation stays the greater the chance of collagen and elastin breakdown as well as an increase in the likelihood of post-inflammatory hyperpigmentation or erythema,' she adds. 'The basics are still the same. Understand the pathology and you can manage appropriately.'
■ How can I treat this type of acne?
'Now you understand the above, you may have realised why wearing masks might have triggered outbreaks of bumps, painful spots dermatitis, inflamed hair follicles, irritation, broken blood vessels and redness or rosacea particularly around the nose and chin,' adds Dr Ayah.
And while mask acne or 'maskne' is likely to be a temporary phenomenon while we continue to fight Coronavirus, from switching up your skincare, adding much-needed hydration and even opting for a cotton face covering, the good news is there are several things you can do to improve the condition of your skin.
■ Switch your face covering fabric
While it's up to you which type of mask you choose based on the level of safety you're searching for, dermatologists and skincare expect suggest that switching to a covering crafted from 100% cotton might just be your skin's best bet.
Not only is cotton kinder and softer on the skin but it allows for more effective ventilation and reduces the humid conditions that bacteria love.
A quick side note: whatever type of mask you're using, it's really important to make sure your hands are clean every time you put on or take off your mask to prevent contamination – use hand sanitiser if you're on the go.
Dr Ayah also has a bit of crucial advice: 'If you are wearing reusable masks please ensure they are washed properly at 60 degrees,' she explains. 'If not, they can collect dust, bacteria and other pollutants which will become trapped between the mask and your skin when it's next used.'
You might be tempted to try to treat your maskne by keeping skin squeaky clean, but Dr Ayah advises against this. 'It's important not to fall into the trap of over cleansing as you don't want to irritate or over dry your skin,' she says. 'This includes over-exfoliating, particularly with physical exfoliants'
'Instead, continue to cleanse just twice a day, preferably with a pH balancing cleanser like the Make P:rem Safe Me Relief Moisture Cleansing Foam is brilliant for this. Or use an acid-based cleanser such as By Wishtrend Acid Duo 2% Mild Gel Cleanser to maintain your skins pH level.'
'In addition to cleansing properly, keeping the skin hydrated is key for comfort, to encourage wound healing and skin repair. Essence and toners such as the By Wishtrend Quad Active Boosting Essence, Make P:Rem Chaga Concentrate Essence and I'm From Mugwort Essence are all fabulous for this and we'll touch more on that in a moment,' she adds.
As maskne is a result of a compromised skin barrier, if you've noticed breakouts where your skin makes contact with your mask, you can likely rectify the problem with a heavy hit of hydration.
'Applying an emollient and/or an occlusive moisturiser will maintain general skin health, protect against infection and support in reducing the severity of any pigmentation or scarring if blemishes do occur,' explains Dr Ayah. Try the Make P:rem Cica Pro Refresh Light cream or the By Wishtrend Acid Duo Hibiscus 63 Cream to help hydrate skin and keep it healthy.
TONIC15 founder Jin Kwon also adds: 'Avoid using strong actives on the affected area. Instead, look out for fragrance-free products with calming ingredients such as Centella Asiatica, Cica Ceramides, Propolis and Mugwort, which are all incredibly gentle and soothing on skin.'
Free from fragrance and artificial dyes, the Pyunkang Yul Moisture Cream is non-comedogenic and none-acnegenic making it a great choice for revitalising and replenishing skin suffering from maskne.
Readily and quickly absorbed, it offers kind-to-skin moisture that also helps to soothe and restore sensitive complexions.
You can also layer a skin-calming serum under your moisturiser for an extra layer of protection.
Try the By Wishtrend polyphenols In Propolis 15% Ampoule which is rich in antioxidants from Propolis extract and has a soothing, calming and anti-inflammatory effect on skin.

■ Free yourself from foundation
If you're used to putting a full face of makeup on in the morning, now might the time to down your brushes and tools.
'Face masks create an occlusive barrier which prevents skin from 'breathing'. If you add makeup to the mix, you're asking for blocked pores,' says Jin.
Instead, focus on glow-giving skincare that'll give the appearance of makeup without the need for full-coverage foundation.
We like to apply the I'm From Mugwort Mask, which detoxifies skin (big blemish-busting tick), while also adding a great glow.
Take the time to really massage in the leftover serum, particularly on cheeks to create instant rosiness and radiance.
You'll find you can get away with little more than a brow gel and mascara and still look 'made up'. Win win.
As masks become a part of daily life, the problem is unlikely to go away on its own. In fact, Jin suggests adding a targeted treatment after you cleanse, tone and treat skin.
'Refuse the temptation to pop or pick these spots,' advises Jin. 'This will only exacerbate the problem by spreading bacteria to other areas or even causing hyperpigmentation or scarring as Dr Ayah has advised'
'Instead, sweep Dr. Ceuracle AC Care Green Two over skin – it contains Liquorice Extract and Aloe Vera extract to deliver deep hydration and acne relief, as well as Centella Asiatica which helps to strengthen the skin's barrier.'
'Then, follow up with a treatment to nix blemishes directly. The Dr. Ceuracle Tea Tree Purifine 70 Spot, which contains 70% Tea Tree Extract, helps to soothe pimples and provide instant relief.'
---
While maskne might be a temporary part of life while we adjust to the new normal, there's no need to put up and make do.
With a few easy tweaks, you can help give skin a fighting chance of keeping itself in the clear.
WRITTEN BY DR AYAH SIDDIQI & NATALIE TICEHURST
Leave a comment